Politics
Report: McCarthy Gives Tucker Carlson Jan. 6 Footage
US House Speaker Kevin McCarthy (R-Calif.) has reportedly given Fox News host Tucker Carlson access to 41K hours of footage from the Jan. 6 Capitol riots. Sources have told Axios that Carlson's team sorted through the video last week and that the show will begin airing footage in the coming weeks...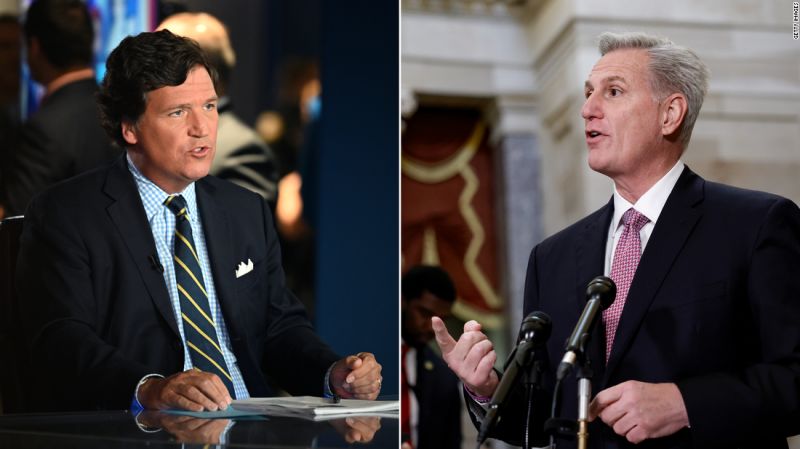 Facts
Sources: 1Breitbart, 2Forbes, 3Daily Caller, 4Axios, 5CNN and 6Red State.
Narratives
Republican narrative, as provided by PJ Media. The fact that Democrats from the Jan. 6 Kangaroo Court are crying foul over this news makes it all the more exciting. While they cite 'security' reasons for not wanting Tucker to have access to the footage, they're actually afraid the surveillance video will show how fraudulent their hearings were. By giving this footage to the most prominent news host in the country, McCarthy has given the American people a chance to decide for themselves whether Jan. 6 was an insurrection, a harmless mob, or even a government false flag operation.
Democratic narrative, as provided by Salon. Beyond potentially obstructing ongoing federal investigations into the insurrectionists, the new Republican majority has chosen to give a far-right conspiracy theorist access to surveillance video so that he can carefully curate election-denying segments of late-night television. After a lackluster midterm election performance, the GOP has no substantive legislation to offer, so, instead, they'll continue living in the past and try again to persuade their voters that when they lose it's because of a 'government conspiracy' against them.